April 19, 2018

|

Categorized in: General, Press

|

By: Deborah Kilcollins
D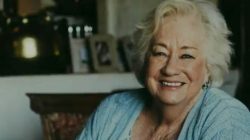 r. Dame Daphne Sheldrick died April 12th after a long battle with cancer.  Sheldrick dedicated more than 60 of her 83 years to the care and protection of Africa's wildlife.
Born in Kenya in 1934, Sheldrick spent decades working alongside her husband David, the founder warden of Kenya's largest national park, Tsavo East. They struggled to make this wilderness a safe place for Kenya's largest elephant population and all wild animals.
When her husband died in 1977, she took on the herculean task of establishing The David Sheldrick Wildlife Trust.
Big Five's founder and CEO, Mahen, had the good fortune to meet both Daphne and her husband David in Kenya years ago. He remembers a talk he had with Daphne in Nairobi after her husband died. She explained her determination to keep his work going. "I could see the love she had for her husband and his work. David had been equally passionate about saving Tsavo elephants and was devastated each time one was poached," states Mahen.
Today, The David Sheldrick Wildlife Trust is the most successful orphan elephant rescue and rehabilitation program in the world, and one of the pioneering conservation organizations for wildlife and habitat protection in East Africa.
She was the first person to successfully hand raise new born elephants and, later, rhinos. But it took her 28 years of sometimes heartbreaking failures to develop the special milk formula to bottle feed baby elephants. What she learned allowed her to save more than 230 orphaned elephants in Kenya, and countless other infant elephants in countries across Africa and even in India.
Daphne lived alongside elephants and learned to understand their fragility, their intelligence, their capacity to love, to grieve, to heal and to support one another. In doing so, she became a leading voice for elephants, driven by her belief that elephants and other wild animals have a right to live a free and protected life.
Her pioneering work helped shape the world's understanding of elephants and rhinos and played a critical role in the protection of these species.
Big Five and our guests have long supported the elephant and rhino orphanage, and will continue to do so. Indeed, in honor of Dr. Dame Daphne Sheldrick, we are fostering an additional eight elephants, one for each decade she lived, two rhinos and a giraffe. To see the orphans we adopted and learn about their stories, visit In Memoriam.
As in an elephant family, the role of matriarch has passed Angela, Daphne's daughter, who has run the DSWT for 17 years. She is supported by her husband, Robert Carr-Hartley, and sons Taru and Roan. They will continue adding to Daphne's legacy, just as Daphne built on her husband's work.
I suspect the elephants of Tsavo are saddened by the loss of their friend. I know the many who admired her determination and passion will miss her, but not her spirit as that will always be at the heart of The David Sheldrick Wildlife Trust she founded.